In this brand new video class, How Can I Get Rid of Anxiety, U.C. Berkeley-trained emotion expert, Dr. John Schinnerer, explains the most common types of anxiety disorders and their symptoms and matches those symptoms up to the most effective treatment methods for you. The types of anxiety disorders covered include:
Panic attack
Panic disorder
Phobias (e.g., snakes, clowns, heights, bridges, needles, open spaces, closed spaces, speaking, etc.)
Social phobia
Obsessive-compulsive disorder (OCD)
Acute stress disorder
Post-traumatic stress disorder (PTSD)
Generalized anxiety disorder (GAD)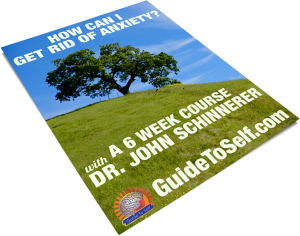 How Can I Get Rid of Anxiety?
Most importantly, this anxiety relief class teaches you how to replace anxious feelings with calmness and relaxation. It's not enough to simply turn down the volume on anxiety. You must have something to put in the place of anxiety and stress. What you need is training in the scientific pursuit of happiness – positive psychology. You need to become more aware of the positive emotions, what they are and HOW to cultivate them – specifically relaxation. Otherwise, you will just return to your old anxious habits.
This scientifically-based online anxiety relief course will teach you:
•The best treatments for specific phobias like fear of flying, bridges, or even zombies (one of the most common phobias!)
•How exposure therapy can help you vanquish your fears
•Tips for getting a better night's sleep when you suffer from anxiety
•The therapy that can help you prevent panic disorders
•Deep relaxation techniques such as mindfulness, deep breathing, progressive muscle relaxation and more.
•Positive psychology tools to cultivate more calm, courage and contentment
•And more!
The Types of Anxiety
Each one of these types of anxiety is matched via research to the most effective types of treatments as shown in the chart below.
| | | | | | | | |
| --- | --- | --- | --- | --- | --- | --- | --- |
| | | | Anxiety Types | | | | |
| | Panic attacks and panic disorder | Specific phobia | Social phobia (social anxiety) | Obsessive- compulsive disorder (OCD) | Acute stress disorder | Post-traumatic stress disorder (PTSD) | Generalized anxiety disorder (GAD) |
| Treatments | | | | | | | |
| Relaxation techniques | √ | √ | √ | √ | √ | √ | √ |
| Exercise | √ | √ | √ | √ | √ | √ | √ |
| Exposure via Imagery | | √ | √ | | | | |
| Real-life Exposure therapy | | √ | √ | | | | |
| Self-talk | √ | √ | √ | √ | √ | √ | √ |
| Coping techniques for panic attacks | √ | √ | √ | | √ | | |
| Challenging mistaken beliefs | √ | √ | √ | √ | √ | √ | √ |
| Emotional awareness | √ | | √ | √ | √ | √ | √ |
| Appropriate assertiveness | | | √ | √ | √ | √ | √ |
| Self-worth | √ | √ | √ | √ | √ | √ | √ |
| Diet | √ | √ | √ | √ | √ | √ | √ |
| Medication | √ | | √ | √ | | √ | √ |
| Meaning/ Spirituality | √ | | √ | √ | √ | √ | √ |
And this revolutionary 6-week course covers each of these treatments so that you can pick and choose which ones suit your needs best, and begin applying them immediately to conquer your anxiety.
You'll also get a special, recently released bonus talk by Dr. John — The Power of Mindset. This 40 minute talk includes the latest research on the importance of your mindset in diverse areas such as stress, anxiety, aging, pain and success.
An 8-hour online anxiety relief class which you can start and stop at your convenience – on your own schedule! These classes are completely self-paced, sign out, come back when you want to. The computer will automatically take you back to where you left off. Work on it for 15 minutes, 30 minutes, or an hour at a time. It's totally up to you!
This powerful anxiety relief class uses the latest evidence-based, scientifically-proven practices to help you manage anxiety and shift it to calm.
What Do I Get With the Course? Get the latest scientifically-proven information that will help you learn how you can get rid of anxiety. Order your own online course of How Can I Get Rid of Anxiety? today. You can download and save all the course materials including 16 exercises, audio files, 4 relaxation meditations and 8 video classes.
Materials are compatible with Mac and PC, tablets, phones and PCs. The anxiety relief class is taught via video (hosted on private YouTube pages) which deliver content to you on your schedule. These video files are downloadable to your computer. You may save them and keep them as long as you'd like. They come in a variety of file formats including MOV, MP4, FLV. The exercises are also downloadable and are in PDF, MOV, MP3 and MP4 formats. These files are viewable via PC or Mac computers. NOTE: These files will not work with Linux.
Money back guarantee: If the anxiety relief class does not work for you for any reason, there is a complete, no stress money back guarantee for 90 days from date of purchase.
Cost:
Normally, the price of this course is $175. For a limited time, you may purchase this 6-week course with over 15 scientifically-proven tools, over 8 hours of material, plus a bonus talk on Mindset for only $97. All this expertise, advice and actionable tools for the low price of $97. That's less than the cost of seeing a psychologist for one office visit!
About Dr. John Schinnerer
Dr. John most recently served as expert consultant to Pixar for the movie Inside Out. In 2015, Dr. John was featured in a documentary called Skewed, by Paula Bossola, on the effects of media on the mind. He is an award-winning author of the book How Can I Be Happy? Dr. John was a radio show host for Guide to Self, a daily primetime radio show in the Bay Area. He has created 3 online courses to help individuals gain the tools they need for greater mental balance and happiness in their lives. The first is a 10-week course on anger management at WebAngerManagement.com The second is a 6-week online course on anxiety (How Can I Get Rid of Anxiety?). The third is a course to boost satisfaction and happiness via positive psychology (How Can I Be Happy – 6-week Course to Happiness). Dr. John has helped tens of thousands of people to turn down the volume on anger and anxiety and increase their life satisfaction.
Legal Disclaimer on Online Medical Advice
This site, http://www.webangermanagement.com, is not designed to and does not provide medical advice, professional diagnosis, opinion, treatment or services to you or to any other individual. Through this site and linkages to other sites, Guide To Self provides general information for educational purposes only. The information provided in this site, or through linkages to other sites, is not a substitute for medical or professional care, and you should not use the information in place of a visit, call consultation or the advice of your physician or other healthcare provider. Guide To Self is not liable or responsible for any advice, course of treatment, diagnosis or any other information, services or product you obtain through this site.
IF YOU BELIEVE YOU HAVE A MEDICAL EMERGENCY, YOU SHOULD IMMEDIATELY CALL 911 OR YOUR PHYSICIAN.
If you believe you have any other health problem, or if you have any questions regarding your health or a medical condition, you should promptly consult your physician or other healthcare provider. Never disregard medical or professional advice, or delay seeking it, because of something you read on this site or a linked website. Never rely on information on this website in place of seeking professional medical advice. You should also ask your physician or other healthcare provider to assist you in interpreting any information in this Site or in the linked websites, or in applying the information to your individual case.
Medical information changes constantly. Therefore the information on this Site or on the linked websites should not be considered current, complete or exhaustive, nor should you rely on such information to recommend a course of treatment for you or any other individual. Reliance on any information provided on this Site or any linked websites is solely at your own risk.